Vicki Gunvalson: How the Real Housewives of Orange County Star Fought Back from the Biggest Betrayal of Her Life
|
Two years ago, Vicki Gunvalson was at the lowest point in her life. After being told on camera the heartbreaking news her mother had unexpectedly passed away, she then had to go through the very public humiliation of having to question whether the man she once called the love of her life had potentially faked cancer to be on TV.
The betrayal by her then boyfriend, Brooks Ayers, who admitted to fabricating medical documents but insisted he did "in fact" have cancer, was ratings gold for The Real Housewives of Orange County. But personally for Vicki it led to a deep emotional breakdown, during which she couldn't even get out of bed. The pain was only heightened when some of her cast mates questioned whether she had been involved in Brooks' lie. "It literally killed me," she said. "I don't think they know the damage they did to my career, my moral compass, my family. It was bad."
Now she's back for season 12, and this time the OG of the OC is telling a different kind of story about how she fought back from the brink to find love—and why she's finally ready to face her demons head on.
How does it feel to be back? 
It's emotional. I want to put everything behind me. I just want to have a good year. I want [everyone] to be friends and have good times.
Tell us about your new boyfriend, Steve Lodge.
It was 10 months after Brooks that I started getting serious with Steve. He was kind of just what I needed. I don't like being alone. It's a couples' world, so if you're not dating or have a significant other you get a little left out from your couple friends. The right people appeal when they need to and he's been good.
He seems to be treating you right…
He is treating me right! There's times where I go, "Is this real?" because he's not very excitable. That's one of the things I was worried about. "So you like me? Are we good?" He's like, "Yes Vicki, I like you a lot, I love you actually."  And I'm like, "But you're not acting like you love me. I'm not getting all those words of affirmation and all the things I need." He's so calm. We have the five love languages… what I need, what he needs. He needs quality time and that's something I don't really give enough of with him, so I'm trying better. I need words of affirmation. I like to whoop it up. He's like, "What exactly does that mean?" So that's a challenge. The bad boy with all that chemistry and all that passion, or is it like a strong, stable man that I know I can count on at all times? And that's what you want.
You and Steve are going to Cabo for his birthday. Is there a chance you might get engaged?

That's up to Steve. At our age, he's 59, I'm 55, you make that decision together. I don't want to be having dinner and then [he just says], "Will you marry me?" It's something we have to know together. I don't want to ever be divorced again. I don't want to go through this heartache anymore. It hurts, like physically hurts.
If he asked you, would you say yes?
Yes. He's really good for me. I love him and he loves me. We may not have the fireworks all the time, but that's not real. I know that I can count on him always.
There's been talk he might be running for mayor, would that mean you have to give up the show?
Gosh no, I'm not going to give up my show. [We are] two people coming together and having to accept each other a hundred percent—I'm not going to change him and he's sure as hell not going to change me. We have to accept each other with what we're bringing… There are a lot of things he's involved with. I just support him and walk away, like, "I'm very busy so whatever you want to do."
Amanda Edwards/Getty Images
There are times when I hear you still talk about Brooks. That must be difficult for him…
It is difficult for him but it's my reality. [Brooks] wasn't this monster in my life. The viewers may think he was, but he wasn't. Did he turn into a monster toward the end? …He did a lot of weird-ass crazy things that I still don't understand. I don't talk to him. I haven't talked to him in two years. I don't know why he did what he did, but he wasn't a monster. He wasn't really the man that I thought he was, so that's the hard part. Steve knows, it's like a death. We've talked about our relationships ending and anybody in my past is still important to me. My first husband, Don, who I was married to for 20 years…you don't just forget about them.
When E! News interviewed Brooks two years ago, he gave us fake cancer documents leading to even more questions about his credibility and whether he had really been diagnosed with cancer. If Brooks were to turn up now what would you say to him?
I mean, just, why? "Why did you reveal bad records? Why did you do what you did to me?" We had a good thing going, so I thought. I still don't know why. I've never been able to get the answer from him. We have common friends and the common friends are like. "Does he, does he not [have cancer]?" I was talking to his mom all the time, his children. He exposed that he was very sick. I don't know and that's why I have to just go, it's my past, I'll never understand it, so I have to be okay with it. But it does hurt because I was so good to him. Why would he hurt me like that, you know?
It's been a difficult few years for you.
I had a brutal year. The girls [on the show] tried to kill me. Like literally tried to kill me emotionally, mental, physically, morally. I lost my best friend [her mom]. I lost the man I love. My daughter was so sick. [Vicki's daughter, Briana, was diagnosed with lupus at the end of 2016]. Business was struggling because I wasn't on my game. So I lay down for two days and just prayed, journaled…little by little I was able to get my strength back mentally. Physically I was fine but mentally I was a mess. And then I got Briana back here, got her to City of Hope, which actually saved her life. Life turns around. Anyone who's going through a bad time, it's a storm that you're in. Seasons change. I feel like I went through that to learn a life lesson. It's how you get through it. I was able to get my mind clear and just know that that relationship is in the past. I just have to pray for him [Brooks]. Steve said, "Vicki, there is no other woman I know that can run a business the way you do, be on a reality TV show and expose all of this and still come out okay." So he gets it. He's very, "You don't lie, you don't cheat, you don't steal, you do the right thing."
What a difference in personalities between Steve and how Brooks was perceived on the show.
I know! I'm like, "God, you have a sense of humor!" How crazy is that? I was lied to, I was cheated and I was stolen from. It's funny. I'm like, okay, so life does turn around.
Your relationship with some of your castmates has not improved this season. First of all, Shannon Beador seems to be blaming you for her weight gain.
Come on. I'm not responsible for her stress. She needs to look at the husband. He put the stress on her. [Shannon's husband, David, admitted in 2015 to having an eight-month affair.] I want their marriage to be successful. I told Shannon, "Don't get divorced, fight for your marriage. Make a life for your family because divorce is not fun." So if she goes back in her mind, I was her biggest cheerleader. I didn't cause this stress on her. Our friendship took a toll but I don't want anything bad for her. I want her to be happy and healthy.
Tamra Judge also says she been under a lot of stress because of the situation with you. She also blames you for spreading rumors her husband Eddie is gay.                                                                 
I felt really bad about that. But Tamra heard the same rumor when she was dating him. If I really wanted to talk about it, I would have said it on camera, I didn't. Why is it okay for Tamra to talk bad about me, when it's not okay to talk about her relationship? It's not my rumor that I started, so I don't know why she's mad at me.
Do you think you could be friends with those two?
I want to be friends. We work together. I didn't kill their dog. I didn't kill their child. What are we fighting about? It's really up to them. I tried to move on and leave everything in the past and they just want to stay back there. Get over it…I just want to be platonic with them, but I'm never going to share my inner secrets. I'm okay with just being like, "Let's get together, go to dinner and talk about trips planned and our kids." We can be those friends and not be hurtful to each other. [Tamra] has to say she's sorry, I'll say I'm sorry. I'll say I'm sorry first. Whatever it needs to be. But we need to move on. We cannot keep talking about the past. I don't want to fight any more. I want to be kind. We're never going to be the same but we can start a new friendship based on honesty and stop accusing me of something I'm not. The hurt that I went through and the money that I went through and the stuff I went through with that man [Brooks] are unbelievable.
What about your relationship with the other OC Housewives? Let's start with Kelly Dodd…
We're good. [Kelly's husband] Michael and Steve are dear friends and if Kelly and I are busy or traveling, they get together for a glass of wine.
You also have a new housewife, the 100th, Peggy Sulahian.
She's a great gal. Her and her husband are fun. Steve and I have gotten together with them off-camera, privately. And Lydia [McLaughlin] is back. She is a great addition because she is a little bit of a calming force between Tamra and I. She's been trying to mend us. I told Lydia, "I'm in! It's easier to get along than it is to fight." But Tamra's got to stop putting out the zingers and not expect anything back.
You just celebrated your 55th birthday and seem to be in a great place. It's a world of difference from a few years ago when you were potentially at the lowest point in your life…
Ever. My mom died. Like, in the middle of the day. For no reason. She wasn't sick. So I got that. I got this situation happening with my relationship. I got my daughter sicker than sick. I got my business suffering. I got my friends thinking one thing about me that wasn't the truth. When I turned 55 it felt good to have it all behind me.
Did you think you would ever be this happy again?

Happiness is a state of mind. 55 has been a good year. My kids are good. They're healthy. I have two beautiful grandchildren. I've got a man that loves me. I've got a business thriving. What else could I want? I just want to keep it going. I don't want to fall back to where I was two years ago or even a year ago. It's a hard place to be.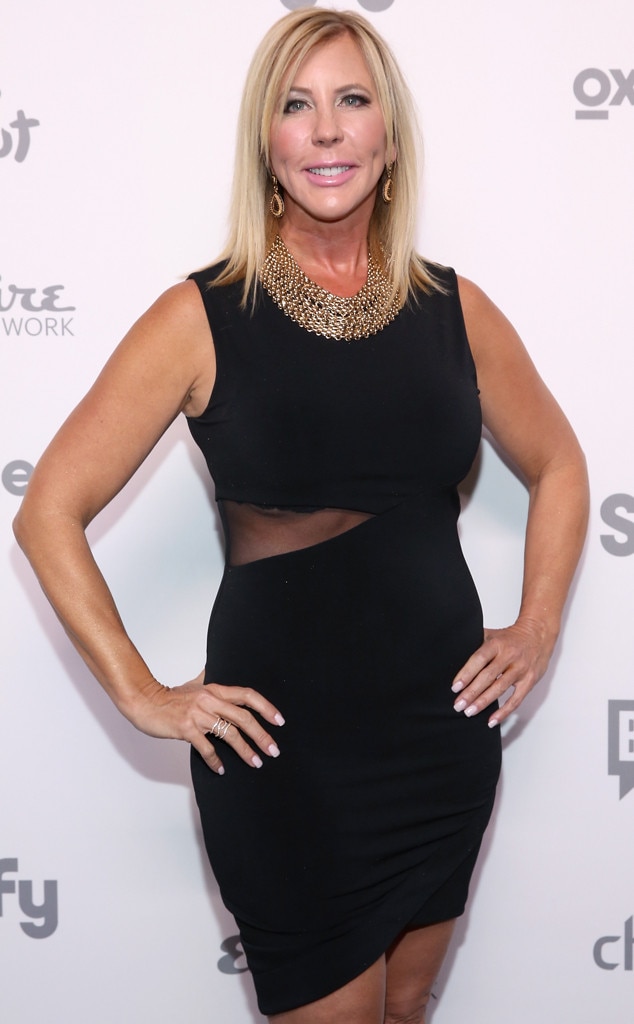 Robin Marchant/Getty Images
What are your plans for this year?
To just keep focused and not let outside influences in… [to be] a good partner, the best grandmother I can be, being there for my kids and then building this business so I can leave a legacy for my family. I don't guard anything. My life is 100 percent out there. People may love me, people may hate me.
How have you changed through all of this?
I'm more guarded. I don't think I'll ever be the same after that experience.
What's the best part about being a Housewife?
The trips, meeting people. The experiences have been really incredible. I think that's been fun.
The Real Housewives of Orange County airs Mondays at 9 p.m. on Bravo.
(E! and Bravo are both members of the NBCUniversal family.)